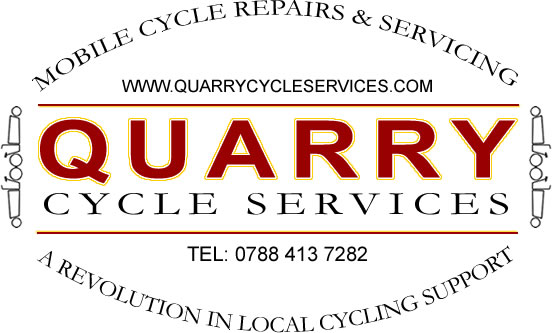 Service options
Whatever your bike, speed or destination, Quarry Cycle Services will be happy to come to you and help keep you on the road.

Our basic service charge is £25, which comes with a level one service and a promise that we will do everything we can to get you back in the saddle as quickly and as cost-effectively as possible.

The service levels below offer a rough guide to how much things might cost (plus any parts that might be required) but they are only a guideline. We'll be happy to chat about what the charges might be and what parts you might need before we get started, and without any obligation on your part to spend anything at all.

Please feel free to get in touch to have a chat about what you might need.

Service level one: £25

Solving your basic biking problems and making sure you're back on the road with the minimum of fuss. Service includes:
puncture repair
the M-test bike check
lubricate chain and gears
tyres inflated correctly
fitting new tyres/parts/accessories as requested
Service level two: £35
Getting your bike rolling and stopping smoothly and quietly. Service includes level one plus:
adjust brakes and gears
true wheels to run straight
cleaning wheels and rims
headset adjustment
Service level three: £60
Giving your bike the TLC it deserves. Spending some time getting everything clean, adjusted and properly lubricated to make sure your bike is at its best. Service includes level one and two plus:
full brake service
full gear service
gears and chain degreased and lubricated

pedals and seat post lubricated
headset service
full bike wash